Whether you are a professional athlete, recreational athlete or someone
who enjoys an active lifestyle, Athlete's Best™ can help!
The creation of the Athlete's Best Premium Omega-3 Plus supplement was led by Dr. Jim Vigue. He is a former USA Baseball Coach of the Year and best selling author of the book, Peak Power Baseball. He works with many professional and non-professional athletes and his baseball book spoke out against steroids long before the condemnation was popular.
Dr. Jim has a Ph. D. in Holistic Health, is Board Certified in Alternative Medicine, and is a member of the American Association of Drugless Practitioners and the American Academy of Anti-Aging Medicine.
The Athlete's Best brand was created in collaboration with his son, Kris Vigue, who is a Certified Personal Trainer and Performance Enhancement Specialist from the National Academy of Sports Medicine. Kris has also written a motivational book for young adults to always pursue their dreams despite setbacks and other challenges.The supplement world is filled with synthetic ingredients and top of the line marketing for inferior products that actually do more harm than good. At Athlete's Best we pride ourselves on quality, purity, and effectiveness. When purchasing an Athlete's Best product, you can be certain that you are getting the best.
Kris Vigue – CEO & Founder
You could say that Athlete's Best™ was created on my front lawn in 1988. I was five years old. It was at that time that my father and I began a habit where we would go outside and 'play catch' and he'd teach me how to take 'massive' swings with the baseball bat. We didn't care about form; it was all about how to have fun with the game of baseball and spending quality time with dad. From that first day of catch, I was dedicated to becoming the best possible baseball player that I could become.
I was extremely fortunate that my father was an avid reader and would always be aware of the latest trends in health and baseball.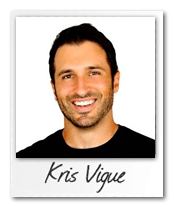 From the age of 5 until the age of 19, I did absolutely everything I could possibly do to get the most out of my ability. My father and I would practice baseball in the depth of winter; we'd have an extra round of hitting after my school practice had already ended; we'd read books on anything to do on improving my baseball skills, from pitching books by Nolan Ryan to books on hitting by Ted Williams. My family even moved from Maine to Florida for my senior year of High School so that I could prove myself against better competition to scouts. I wasn't the typical build of a Major League Superstar in 2001-2002. I was 5'8 and 150lbs, but I could hit the ball 450 feet, throw the ball 90mph, and run the field with amazing speed.
I never used my size as a deterrent to my success; however, it was my body that eventually let me down. After signing with Stetson University to play Division I baseball, I had felt as though my dreams of a Major League career were getting closer and closer. I had a good senior year at my high school (which was ranked as the #4 team in the entire country in 2002 by Baseball America). Three months prior to fall ball starting at college I had a collision in the outfield where I dislocated my hip and broke three ribs. Fast forward to our college scout day on October 30th, 2002 and I had another collision on the field and completely dislocated my shoulder and my baseball career was effectively finished. Keep in mind that I played the game 110% all the time. Even though I sometimes played in front of 20 fans up in Maine, I wanted to be remembered.
There is a quote from Yankee great Joe Dimaggio where he was once asked how he constantly played so hard, all the time, regardless of the situation. His response was, "I always remind myself that there might be someone in the stands who never saw me play before." That really struck a chord with me and I wanted to show whoever was in the stands what I could do. I wanted to entertain with my hustle and be remembered as the best on the field for that particular day.
I wasn't going to just put out any product under my name, unless I was certain that it would be the absolute best.We have cut absolutely no corners with the ingredients and formula that we have come up with. We use the highest priced and most effective quality ingredients on the planet. You cannot possibly find anything better – believe me…my team has looked…and looked…and looked. Premium Omega-3 Plus was designed specifically for athletes, but I can say with full confidence that this IS the best Omega-3 supplement on the market. Period. I am a Certified Personal Trainer and Performance Enhancement Specialist from the National Academy of Sports Medicine. I am also a Certified Nutrition and Wellness Consultant. I hope you all enjoy our product and wish you the best of health!
Kris Vigue, CEO
Former Division I Athlete
Certified Personal Trainer
Certified Performance & Enhancement Specialist from the National Academy of Sports Medicine
Certified Nutritional Wellness Consultant
Dr. Jim Vigue
Jim Vigue is a former USA Baseball/Major League Players Association Coach of the Year and an award winning author. He has always been a proponent of natural ways of enhancing athletic performance as witnessed in his best selling baseball book, Peak Power Baseball.  His latest book, Where Did My Wife Go? , examines the hormonal issues that women have to deal with as they get older.
"I have always been acutely aware of the problems of aging and athletic performance since I have had to deal with many of these issues myself.
With a family history of early heart disease and personal problems with arthritis from old sport injuries as well as degenerative spine disease, I know what it is like to get up in the morning looking like the Hunchback of Notre Dame and not being able to stand up straight until spending at least ten minutes in a steaming shower. Our goal was to develop a product that would help with joint pain and inflammation, as well as improve athletic strength and endurance. I am proud to say that we have developed such a product with our Athlete's Best™ Premium Omega-3 Plus. My former debilitating joint pain is now gone. I jump out of bed in the morning and after a couple minutes of stretching I am either headed for the track, a long bike ride or the tennis court.
As an aging baby boomer, I can now still outrun most players on a tennis court 20-25 years younger than I am. I have been advised to have operations on my elbow, my knee and both shoulders. To date I have avoided surgery with exercise and the right supplements. Since 50% of the men my age have some sort of rotator cuff tear with pain, I guess 50% of us could have an operation if we didn't know the alternatives. Besides reducing my joint pain and increasing my energy level, a side benefit has been an overall improvement in my lipid scores. Since I have been on Premium Omega-3 Plus I have seen a reduction in triglycerides, bad LDL cholesterol and the inflammation marker C-Reactive Protein. Inflammation is a major contributor to all the diseases of aging. My good HDL cholesterol which has always been low, has increased substantially.
I have been able to get rid of pain, improve both my energy and endurance levels as well as improve my overall lipid profile while taking our product. To me this sounds like a product anyone with similar issues might want to take a look at. We have spared no expense in putting Premium Omega-3 together. We have used only the finest ingredients and have created a product that every athlete or active person should try. With our risk free 45 day guarantee, you really have nothing to lose. Look over our site. Read about our product and then give it a try. The product has improved the overall quality of my life and I hope it can do the same for you.
Dr. Jim Vigue
Holistic Health Coach
Board Certified in Alternative Medicine
Award Winning Natural Health Author
American Association of Drugless Practioners
USA Baseball/MLB Players Association Coach of the Year